Handlung
Der Kongress ist aus Anlass der Rede zur Lage der Nation von Präsident Ben Kingston feierlich geschmückt. Die Repräsentanten und Senatoren sind gemeinsam aus ihren jeweiligen Kammern in den Plenarsaal des Kongresses gegangen und haben sich in den Sitzreihen verteilt. Die meisten sitzen in der Nähe ihrer Parteikollegen. Einige haben sich demonstrativ am offenen Gang platziert, den der Präsident entlangschreiten wird, um ihm die Hand schütteln zu können.
Handlung

Nachdem die Unruhe verklungen ist, klopft der Seargeant-at-Arms vernehmbar an die Tür zum Plenarsaal, woraufhin zwei Saaldiener diese öffnen.
Mit lauter Stimme ruft er in den Raum: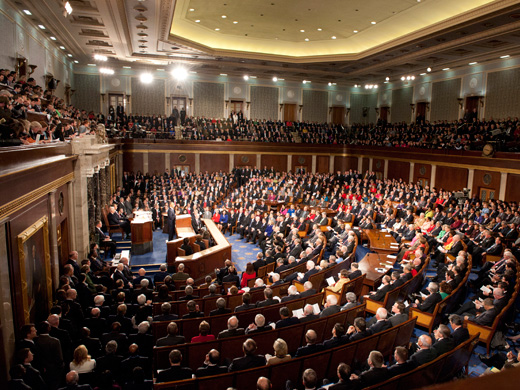 Honorable Members of Congress,
the President of the United States!
Handlung
Die Kongressmitglieder und übrigen Anwesenden, darunter die Ehrengäste und Kabinettsmitglieder auf den Besucherrängen, erheben sich traditionsgemäß für die Standing Ovations. Nachdem der Präsident auf dem Weg von der Tür zum Rednerpult Hände geschüttelt und für Fotos posiert hat, reicht er einen versiegelten Umschlag mit dem Manuskript seiner Rede dem Speaker, damit der Text ins Kongressprotokoll aufgenommen werden kann.