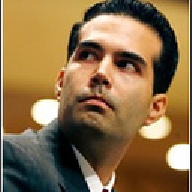 Mr Speaker,
ich bitte, meine Herkunft zu berichtigen.

Mr. Speaker,




es schleicht sich aber auch immer irgendwo irgendwas ein. Das wurde jetzt berichtigt.

Mr Speaker,
ich danke der Vice-President of the Congress für die schnelle Erledigung.

Mr Speaker,
ich möchte die Gelegenheit nutzen, mein Stimmverhalten bezüglich der Nachbesetzung der Chairmans of the Standing Committees zu erklären.
Ich kann dem Kandidaten [Congressman Varga] nicht zustimmen, da er neben seinem Mandat auch noch das Amt eines Governors bekleidet. Wir Demokraten kämpfen seit langem für eine konsequente Umsetzung der Gewaltenteilung, daher war für mich nur eine Enthaltung möglich.




Vielen Dank.

Madam President,




aus dem gleichen Grunde habe auch ich in der Abstimmung über die Wahl des Congressman Varga zum Vorsitzenden des Streitkräfteausschusses nur meine Anwesenheit bekundet.




Unter normalen Umständen hätte ich seiner Wahl zugestimmt, jedoch kann ich es angesichts meines Eides auf unsere Verfassung, eines derer Kernprinzipien die horizontale wie vertikale Gewaltenteilung ist, nicht verantworten, den amtierenden Gouverneur eines Staates zum Vorsitzenden eines Ausschusses des Bundeskongresses zu wählen.




Es wäre schädlich und darum unklug, so jemanden aus allein diesem Grunde abzulehnen, jedoch aktiv mittragen kann ich seine Wahl ebenso wenig.

Madam President,




ich kann mich den Ausführungen meiner Vorredner nur anschließen. Bei mir hat es auch die fehlende Vorstellung des Kandidaten und damit die fehlende Information darüber, was denn nun genau ihn für diesen Ausschuss besonders qualifiziert, nicht erleichtert dem Kandidaten zuzustimmen.

Honorable Members of Congress,




ich möchte zuerst den neugewählten Ausschussvorsitzenden gratulieren. An Congressman Márkusz Varga, Chairman of the Committee on Defence and Armed Services, möchte zudem gleich die Bitte richten, sich mit dem Department of Defense bzw. der Navy in Verbindung zu setzen, um den Unfall der USS Isaposant näher und vielleicht auch abschließend zu untersuchen.

Mr. Speaker,




Vielen Dank! Ich kann Ihnen versichern, dass mir sehr an der Aufklärung dieses Vorfalles gelegen ist und ich dementsprechend auf eine rasche Aufklärung hinwirken werde.

Mr. Speaker,




Bedauerlich, dass Sie nicht an der Abstimmung über die "Prohibition of Intoxicants and Alcohol Prevention Bill" teilgenommen haben...

Madam President,




seien wir einmal ehrlich: Ein deutlicheres Ergebnis als das im Senat kann es ja auch ohnehin nicht geben. Hier einzelne Kongressangehörige an den Pranger zu stellen weil sie an einer so krachend verlorenen Abstimmung nicht teilgenommen haben finde ich mehr als nur etwas schwach.

Mr. Speaker,




Ich muss Senator Powell klar widersprechen. Ich habe hier niemanden an den Pranger gestellt. Ich hätte nur, gerade vor den Wahlen, gerne gesehen wenn alle Kongressmitglieder Farbe bekennen würden.




Dies gilt aber nicht nur für diese Abstimmung, sondern generell für alle.




Ich muss zugeben, dass mich das Resultat wurmt, jedoch anerkenne und respektiere ich selbstverständlich die Entscheidung des Kongresses.

Mr. Speaker,




Ich darf Senatorin Gerard mitteilen dass ich diesbezüglich bereits mit der Regierung in Kontakt stehe. Das Department of Defense erarbeitet momentan seinen Bericht. Selbstverständlich werde ich diesen sobald er mir vorgelegt wurde kritisch begutachten und wo nötig auch Ergänzungen einfordern.

Congressman Varga,




ich bedaure es ebenfalls, dass ich anfangs haderte und dann die Abstimmung vergaß. Aber im Nachhinhein hätte meine Stimme das Ergebnis nicht zu Ihren Gunsten verändern können, weder im House noch im gesamten Kongress.

Mr. Speaker,




Ich bin mir bewusst, dass Ihre Stimme nicht den Ausschlag zu Gunsten meines Entwurfes gebracht hätte. Die Ablehnung im Senat war schliesslich überaus deutlich und auch im House hätte es für nicht mehr als einen Patt gereicht.




Ihre Stimme hätte also im Endeffekt nur symbolischen Charakter gehabt, allerdings mit einer starken Ausstrahlung. Dennoch hätte ich auch in der Debatte gerne Ihre Argumente gehört. Und ich denke auch Ihre potenziellen Wähler hätten diese gerne gehört.

Congressman Varga,




Drogen und andere Suchtmittel sind und waren nie mein Thema. Sie wissen von mir ja bereits, dass ich Alkohol, Tabak und auch Zuckerzusätze verbieten würde, auch weil ich mir immer noch Vorwürfe mache, dass ich Governor Fitch einst habe fahren lassen, obwohl ich ein ungutes Gefühl hatte.




Ob der Bund dafür die Zuständigkeit hat oder nicht, würde ich erstmal dahinstehen lassen. Ich sehe es auch nicht als Aufgabe des Kongresses, die Verfassungsmäßigkeit eines Gesetzes zu überprüfen, weil dies nicht seine Aufgabe ist. Er hat sich zwar an die verfassungsmäßige Ordnung zu halten, aber dies gilt meiner Meinung nach nur für die offensichtlichen Dinge.
Er hat meiner Meinung nach aber nicht das Recht, die Entscheidung der Gerichte bzw. des Obersten Gerichtshofes vorwegzunehmen.




Aus seiner generellen Allzuständigkeit für das Wohl und Wehe aller Bundesbürger bzw. der Bürger in allen Staaten würde ich seine Zuständigkeit grundsätzlich bejahen, jewede Gesetze zu erlassen, die die Bevölkerung in Folge von Werbemanipulation auch vor sich selbst beschützen. Denn die Gesetze sollen den Menschen dienen und ihre Wohlfahrt mehren, vor allem, wenn manche Bundesstaaten sehr lax mit der Gesundheit der Menschen umgehen und den Einfluss von Werbung und Sucht auf die Entscheidungsgewalt jedes Einzelnen verkennen.




Andererseits vertrete ich in dieser Thematik gleich zwei Radikalposition, weshalb ich mich in der Debatte zurückhielt und dann mit der Stimmabgabe haderte.

Mr. Speaker,




Ich danke Ihnen für Ihre Stellungnahme.




Und hoffe, dass Sie Ihre Positionen in der neuen Legislatur auch entsprechend vertreten werden damit hätten Sie dann auch meine Stimme.

Mr. Speaker,




ich weise mal darauf hin, dass die Aufarbeitung des Isaposant-Zwischenfalls am 9.06.2013 angekündigt wurde. Danach wurde der Zwischenfall nur noch hier im Kongress aufgegriffen. Sollte es diese Kommission geben, würde mich interessieren, wie diese zusammengesetzt ist. Wer arbeitet dort mit? Wurde der Vorsitzende des Auschusses für Verteidigung und die Streitkräfte nach seinr Wahl ebenfalls dazu eingeladen? Wann dürfen wir mit Ergebnissen der Untersuchung rechnen, nachdem der Kommission nun bereits seit gut einem Monat arbeitet?