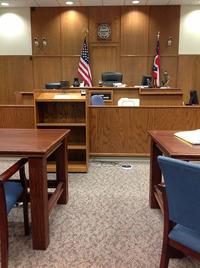 SimOff
Handlung
Ein Gerichtsdiener betritt den Saal.

Would you please stand.

Handlung
Er wartet, bis alle sich erhoben haben.

The Honorable Lucas T.J. Galindo, Federal Judge, will preside over the proceedings of the Federal District Court for the District of [definition=4]Laurentiana[/definition] in this Habeas Corpus Hearing.

Handlung
Der Gerichtsdiener nimmt seinen Platz ein.