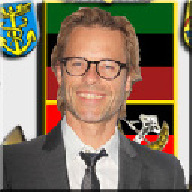 Sim-Frage
Virtuelle Statistiken wurden keine geführt. Es hätte eine tatsächlichliche Verurteilung gegeben, aber die demokratischen Gutmenschen haben das damals verhindert.

Wieso wurde das Urteil revidiert?

Weil es einen gesetzlichen Vobehalt gab, dass die Todesstrafe vom (US-)Präsidenten zu genehmigen war. Der demokratische Amtsinhaber hat das natürlich nicht getan, weswegen der Oberste Gerichtshof sein Urteil abgeändert hat. Meiner Meinung nach verfassungswidrig, da das Urteil ja schon gesprochen war und Urteile des Obersten Gerichtshof endgültig und bindend sind. Aber damit bin ich damals nicht durchgedrungen.

A shame for the honorable Court.
Dabei weiß doch jedes Kind, dass es sich bei der Todesstrafe um eine "cruel and unusual punishment" gehandelt hat und eine Anwendung niemals hätte erfolgen dürfen.

Gentleman, also meine persönliche Meinung ist das die Todesstrafe wider eingeführt werden sollte, es muss ja nicht unbedingt Giftspritze oder Stuhl sein. Hinrichtungen durch Galgen oder Füssilieren genügt völlig.Die Todesstrafe gehört einfach zu einem Rechtssystem dazu.

Eine moderne Gesellschaft bestraft Gewalt ohne sie anzuwenden.

A shame for the honorable Court.
Dabei weiß doch jedes Kind, dass es sich bei der Todesstrafe um eine "cruel and unusual punishment" gehandelt hat und eine Anwendung niemals hätte erfolgen dürfen.


Das endgültige und bindende Urteil unseres hauseigenen Supreme Court hat das genau anders gesehen, von daher: Nice try.

Ein guter Fall für ein corrective overruling. Der Finnegan hat Maßstäbe aufgestellt, die er dann selbst missachtet hat.

Wirklich?
Wir reden hier von keinem andauernden Konflikt, weil Cherokee meiner Meinung nach aufgegeben hat, da jede Aktion im Prinzip im Keim erstickt wurde.
Er kam prinzipiell nicht damit klar, dass ich zum Beispiel eine Stadt komplett gefilzt habe, Stück für Stück und ihm dadurch wirklich keine effektive Möglichkeit zum reagieren gelassen habe.
Gut, eventuell hat er auch ein funktionierendes RL
Der Punkt ist: Stralien ist Stand jetzt befriedet und erhält Entwicklungshilfe, die von uns vor Ort gesteuert wird, der Wiederaufbau geht also voran.
Aber stellen wir uns doch hier in Astor hin und simulieren weiter schon eine Fluchtbewegungskatastrophe.
Way to go

Das der Wiederaufbau läuft, löst ja nicht das Problem der Menschen in Astor.

Vielleicht hätte die Regierung dann entsprechend kommunizieren sollen?




Wenn der Gegner fehlt macht es schon nicht wirklich Sinn einen Krieg weiterzusimmmen.

Sagt die Präsidentin, die tatsächlich erwägt hat, Abzianidzes DoD ID mit Humvees nach Stralien zu schicken.
Die Regierung simmt keinen Krieg weiter

Sorry, aber Kommunikation ist definitiv nicht eure Stärke. Vor allem nicht in dieser Sache.




Der zweite Teil meiner Äusserung war hingegen unterstützend gemeint.

Es geht ja auch niemandem darum hier einen Krieg weiterzusimulieren von dem neben McQueen hier im Forum wohl kaum einer Notiz genommen hat - da die Kommunikation eben nicht die Beste ist. Es geht darum, ob wir die Folgen des Krieges vor unserer Haustür in unser Spiel einbinden oder ob wir das Ganze vergessen und weitermachen als sei nichts gewesen. Wenn Geschehnisse im Spiel jahrelang simuliert werden und plötzlich nicht mehr, dann frage ich mich, wieso schreibe ich hier noch?

Geht das noch?




Die City heißt Astoria, aber das "City" ist so dramatisch ja nun nicht.

Nachdem die Googlesuche nach "aliosexuell" nur zwei Ergebnisse - beide Astor - ausgespuckt hat, muss ich wohl hier fragen: aliosexuell?

homo-sexuell - gleichgeschlechtlich
hetero-sexuell - anders- o. verschiedengeschlechtlich
Bi-sexuell - zweigeschlechtlich




Die Begriffe sind Hybride aus Latein und Griechisch (Quelle).
Sie verdeutlichen aber nur, worauf die eigene Sexualität gerichtet ist.
Demgegenüber bezeichnen trans- und intersexuell genau das nicht.
Da kommen dann so Bezeichnungen hinzu wie Transmann oder Transfrau.




Das führt dann zu LGBTI* - Lesbian-Gay-Bi-Trans-Inter und Sonstigessternchen ist eine furchtbare Buchstabenakkumulation.
Einfacher ist queer - abweichend (Quelle).




Es ist aber zu allgemein, weil es eben nicht nur auf Sexualität bezogen werden kann.




Aliosexuell nun bleibt beim Latein: alius - anders und sexuell - geschlechtlich.
Der Ausdruck ist allgemein, aber bezogen auf Sexualität und inkludiert sowohl Identität und Orientierung der Sexualität.




Und wenn er irgendwann Einzug in die Literatur findet, dann ist Astor die Wiege dieses Wortes.

Du hast das Wort also erfunden?