[doc]
Der für einen Saal reichlich kleine Bereich von No. 54 ist mit ein paar Stuhlreihen und zwei gegenüberstehenden Mikrofonen ausgestattet. Hinter den Mikrofonen steht ein Tisch mit teurem Füllfederhalter und einem dicken Buch, daneben ist eine metallene Platte in die Wand eingelassen.
[table='THE HALL OF OATHS']
[*]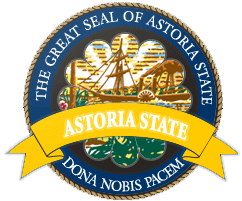 "It is not the oath that makes us believe the man, but the man the oath."

Die Hall of Oaths ist der traditionelle Ort der Vereidigung von Staatsbediensteten. Am nebenstehenden Tisch fertigt der Gouverneur von [definition=2]Astoria State[/definition] die Ernennungsurkunde aus, ehe er dem zu ernennenden den Eid auf die Verfassung und die getreuliche Amtsführung abnimmt. Erst mit Abschluss dieser Zeremonie wird die Ernennung wirksam und das Original der Urkunde wird in das Book of Appointments aufgenommen, um dort für die Nachwelt verwahrt zu werden.
Der Eid, der um eine religiöse Beteuerung erweitert werden kann, lautet:
Ich schwöre, dass ich die mir anvertrauten Aufgaben nach bestem Wissen und Gewissen erfüllen, Gerechtigkeit gegen alle Menschen walten und dem Wohle des Staates nach den Worten dieser Verfassung dienen werde.


[/table]